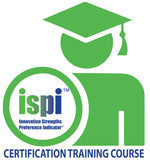 LIMITED SEATING AVAILABLE
This product requires you to Register for the Certification Training Course.
Click here to download our December 2015 ISPI™ Certification Training Course Brochure
The need for maximizing the talents of people has never been stronger. Yet, understanding what it takes to leverage the strengths of people is still not a common practice. Becoming certified in the ISPI™ (Innovation Strengths Preference Indicator™) is a key step in boosting the productivity, performance and output of your organization and your people. Those Certified in the ISPI™ will be able to provide feedback and coaching to ISPI™ individuals and groups. They will also be able to analyze and interpret ISPI™ data when forming teams or analyzing teams. In addition they will be able to look at cumulative ISPI™ data of a team, department or organization and interpret different cultural characteristics of the group. Depending on what you are looking to do with the ISPI™, there can be many organizational-specific benefits to Certification in the ISPI™.
Becoming certified in the ISPI™ is a three-day (3 day) process.  ISPI™ Certification can take place via open enrollment times. 
To learn about or Register for our ISPI™ Certification Training Course , please visit the Humangrid™ Events Calendar. (http://bit.ly/ISPI_Training).  
Enhance your skills-Advance your business 
Stay Relevant.  Maintain your Professional Credentials
CCE Hours Available
The International Coach Federation (ICF) has approved this course for Continuing Coaching Education (CCE) hours of Core Competencies 11 hours and Resource Development for 8.75 hours.
ATD Professional Plus Member
ATD members welcome.  Please contact us at Support@innovating.com to learn about special benefits available to ATD members.
We specialize on working with local and national agencies and administrations
GSA Contract Holder
Available for all levels of government and GSA contract holders or venders.  Do you service any level (local, or national or international) of the US Government?  Through the GSA network HumanGrid™ offers exclusive discounts to all public organizations that access and utilize the GSA.  Need help submitting a RFP or RFQ into the GSA so that your team, administration or department can participate in the ISPI™ Certification Training?  Contact us today at support@innovating.com and we'll be happy to assist.
HumanGrid™ offers special group ISPI™ Certification Training Course on-site specifically for your organization. If you are interested in having your organization having their own ISPI™ Certification Training, please contact us directly via support@innovating.com