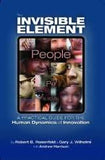 In "The Invisible Element: A Practical Guide for the Human Dynamics of Innovation", Robert 'Bob' Rosenfeld and Gary Wilhelmi share their 80-plus years of experience as innovation leaders and practitioners. The book lays out practical points and applicable insights for how people can make innovation happen inside their organization.
Innovation is made up of business, technical, and human elements. Because it is often invisible, the human element is the least understood and hardest to grasp. "The Invisible Element" explains the principles behind creating a sustainable culture of innovation and provides a practical guide for their implementation.
We all know innovation is the lifeblood of business, yet most writing on this important subject is devoted to process. In The Invisible Element, Rosenfeld and Wilhelmi look beyond process to tap the elusive (or critical ) human elements essential to creating a culture that fosters and sustains innovation.
- Don Hall, CEO, Hallmark Cards, Inc.
Many business publications and thought leaders exalt the importance of innovation. Despite the good intentions of organizations, many organizations find it difficult to implement a concrete and comprehensive set of activities to support their desire to innovate. In this book, Rosenfeld and Wilhelmi present a practical guide to help leaders close the gap between their desire to innovate and their ability to drive innovation into their organization. If you want to 'unshackle your innovators,' this is a must-read book!
- David Altman, Ph.D., Executive Vice President, Research, Innovation and Product Development, Center for Creative Leadership (CCL)
From a lifetime of personal innovation experience and keen observations of behaviors within organizations, Bob Rosenfeld and Gary Wilhelmi have created a set of models to assess both individual and organizational innovation conditions. Captured in The Invisible Element: A Practical Guide for Human Dynamics of Innovation are timeless principles and practical methods to guide the establishment of productive innovation systems. Honed through interactions with innovation leaders throughout the world, these models, principles, and methods are invaluable to innovation leaders as they take innovation to the next level.
- Michael Vahey, Innovation Champion, SAS Office of Innovation, Raytheon