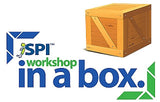 While many of our business tools can gain from having a certified practitioner involved in the process of sharing results with your team, clients, family or spouse; the SPI™ Workshop-in-a-Box® allows for our tools to be used (and the benefit gained) by smaller organizations and teams. HumanGrid™ makes this practical and affordable by offering a completely self-contained workshop in a 'box'. We understand that the expense of an onsite consultant can be prohibitive to a small organization and the SPI™ Workshop-in-a-Box® is a method around that.
Your online tool box comes with everything needed to run a workshop for teams up to 11 people (including the facilitator).
What's in the virtual box?
A Facilitator Guide
*11 iSPI™ licenses – allowing your team to take the SPI™ virtually
Digital versions of SPI™ Feedback Report – team members are able to print (or bring by tablet) feedback books to workshop
SPI™ Tent Card – team members can print their own folding tent cards (with their profile) to keep on their desk or just to bring to the workshop
 SPI™ Theory Guide – This gives the facilitator more insight into the SPI™
 SPI™ Lexicon Glossary – Provides the facilitator and participants a simple display of the new lexicon they are embarking on.
Predesigned PowerPoint™ – A Powerpoint is provided for facilitators to use during the workshop – the content flows with the workshop outline and leaves room for creative changes by the facilitator
Group feedback charts – your online tool box allows facilitators to run group reports and instantly receive a PowerPoint™ with charts showing group results.
 And More!
*Scalable: additional tools can be purchased if your team is larger